Ads not allowed
Before placing an item for sale, you must ensure that it is permissible. There are certain products that can't be published on the site. Todogadget can end an ad if you breach any of our established policies. In these cases, we will notify the seller by email once he has removed an ad explaining the reasons. Read the Terms Prohibited Items in Todogadget to know which products can't be sold. With these rules you will always know what is allowed and it will help you to publish your ads correctly.
PROHIBITED ADS
: it means that these items can't be advertised in Todogadget.

In addition to the list of prohibited items, our standards to publish an ad can help you on how to advertise and show you tips to add titles and correct descriptions of a product at the time of publication. In this case ads can be removed if they violate the rules by posting an ad on the web. Remember that if a product is illegal, buyers may incur legal liabilities for the purchase of this product.

Have you found a prohibited item, which may be committing an offense or fraud?

Report violators ads or problems with another user Todogadget. In all ads you will find a link that allows you to report it, so we can study the case and remove it if it doesn't meet the conditions. It's important reporting ads that you believe they may be committing some kind of infringement or fraud in the web.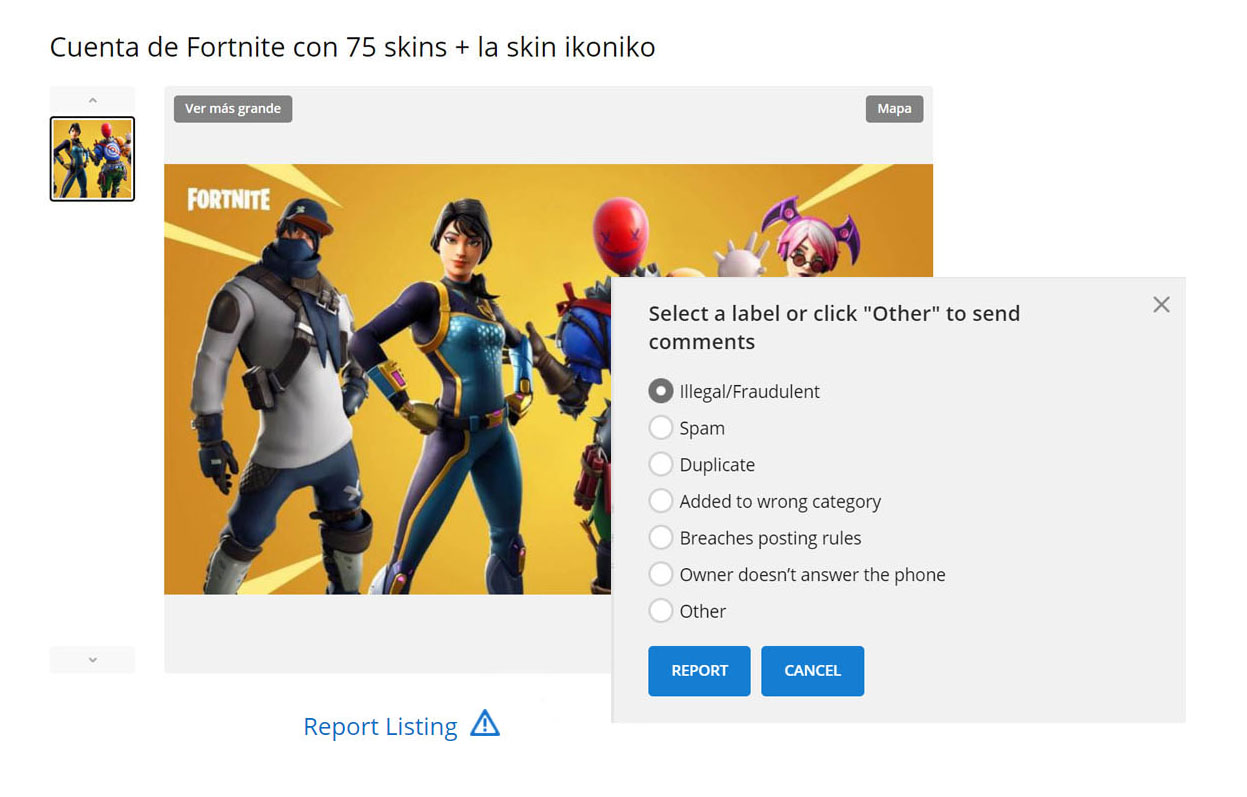 Rules and Terms of Use

Here are some basics to keep in mind when advertising products in Todogadget. Our policies are based on existing national legislation, although in some cases act thanks to requests from some of our users and in others cases responding to our own judgment, specially when it comes to hazardous or delicate items. In addition to the penalties for publishing a banned product there are other penalties by using offensive material like an image or a description, or using inappropriate language.

- We don't allow items that promote violence, hatred, racial, religious or sexual intolerance, or promote ideologies such as those described above. We will also remove ads that contain graphic violence, unless they have a social or artistic significance. We always check the full announcement in detail to determine whether it violates our rules.

- Items containing nudity or adult material are allowed like movies whose content is not sexually explicit or is not classified as a film for over 18 years. No videos and amateur hidden camera allowed with sexual content. Sadomasochistic selling products is also prohibited in addition to videos containing sexual domination.

- In Todogadget it isn't allowed advertising used underwear, even clean. This type of products includes, among others, boxers, briefs, pants, diapers and sportswear. Images of model clothes showing intimate parts are not allowed. Clothing ads showing images with models can't include any information of the person wearing the garment for photos.
 
- It isn't allowed to add URLs in the images published in ads inTodogadget either for advertising or if it's a copy of a photo hosted on another website. If you want to publish the same photo hosted on another website ads, you must remove the URL of the image. Make sure your ad meets these standards. Otherwise, it could be eliminated and also suspend your account temporarily or permanently. Be sure to read our policies before publish your products because they can be updated at any time without notice.

Prohibited ads

These ads are not permitted and therefore will be deleted:

- Including personal or contact information in ads is not allowed. It is not allowed to include contact addresses such as Discord, Whatsapp, Telegram and other applications or sites that offer messaging services.
- It is not allowed to include Social Network addresses such as Facebook, Instagram, Twitter and others that offer messaging services. Users must use our messaging service to indicate these contact details if they want.
- It is not allowed to include phone numbers or emails in the description of published ads. Depending on the type of account you use, you must include your email and phone in your profile or form fields to add ads but never in your ads.
-

Ads that are not real or false (abusive prices, unreal prices, with conflicting information

or with indications of being a scam).




- Ads that do not have to do with your person.




- It is only allowed to put personal accounts up for sale, in no case sell a large number of accounts of unknown origin.




- The sale of games run from emulators or created from third-party software is not allowed.




- Ads that offer services to illegally add any type of currency used in a video game.




- Photos that hold some intellectual property without having the right or permission to use it.




- It is not allowed to sell PayPal accounts.




- Ads with a url in the title or images advertising a phone number or url.




- Ads that incite fraud or fraud.




- Ads in underwear.




- Ads with adult content.




- Tarot photos and esoteric works.




- Pictures of services of loans or illegal financial activities.




- Ads with firearms and ammunition.




- Ads with identity documents and driver's license.




- Ads with hazardous or unregulated materials.


- Ads with mailing lists and personal information.


- Ads to hack consoles or any other device.




- Ads of Hacks or Software for video games that give cheats or advantages to the player in an illicit way.


- Youtube channel ads or any other content streaming platform.
- Ads that refer to health reasons or economic problems are not allowed.



Important





If you have purchased any of our ad plans and publish an ad that is not allowed, it will be removed and in no case will the payment made be refunded.



If you post not allowed ads as a user, your account may be temporarily suspended or permanently deleted. If you think we have deactivated or deleted an ad by mistake and you are following the rules, please contact us